Bangladesh must speak out or to face longer Rohingya crisis
Published: 05:49, 3 December 2019 Update: 15:18, 26 July 2020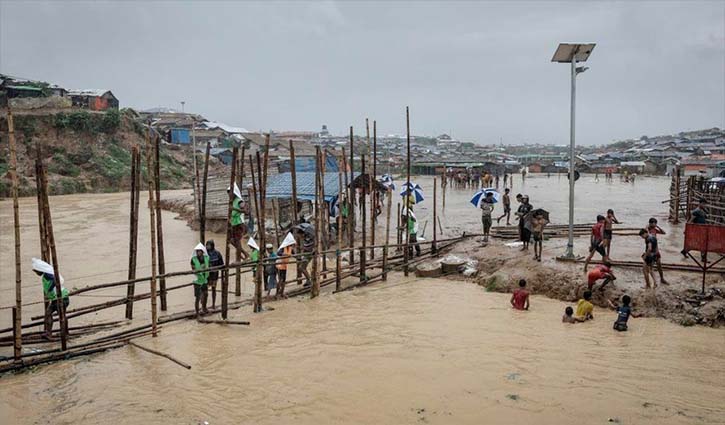 Rohingyas with many of the damaged bridges connecting the camps (Source: UNICEF)
M Mahfuzur Rahman: What does Myanmar actually desire with Rohingya crises? Is Bangladesh's diplomacy being run with proper way? Why doesn't Bangladesh work proactively in resolving the issues? These sorts of questions, I think, should be asked. Rohingya issue has huge negative impacts for Bangladesh and as well as in the region.
Over 9,00,000 Rohingya refugees have been living in the makeshift shelters in Bangladesh's southern district of Cox's Bazar. The makeshift shelters mushroomed along the road and on available land in Ukhiya and Teknaf, creating huge environmental, economic and ecological catastrophe in the surrounding areas. On the other hand, according to a report, published on the website of the Council on Foreign Relations of USA, an estimated 3.5 million Rohingya dispersed worldwide.
The ill-f1ated refugees fled separate crackdowns by Myanmar's brutal military in 2017 in Rakhine state, 220 km away from the port city. The authorities of Myanmar refuse to grant the Rohingya citizenship, and as a result most of the Rohingyas have no legal documentation, effectively making them stateless. Myanmar's military junta, which seized power in 1962, introduced another law twenty years later after a law in 1948 that stripped the Rohingyas of access to full citizenship with facing heavily international criticism and the refugees sought shelters in Bangladesh.
Myanmar inadvertently sees Rohingyas as illegal immigrants from Bangladesh. Even though many trace their roots in Myanmar back centuries. If we look back to the history of ethnic groups in Myanmar, the Rohingya trace their origins in the region to the fifteenth century, when thousands of Muslims came to the former Arakan Kingdom. Many others arrived during the nineteenth and early twentieth centuries, when Rakhine was governed by colonial rule as part of British India. Arkanese chronicles claim that the Rakhine have inhabited Arakan since 3000 BCE. By the 4th century, Arakan became one of the earliest Indianized kingdoms in Southeast Asia (Source-The History of Myanmar: William J. Topich and Keith A. Leitich).
Political science scholars, however, also rejected the Myanmar's claim of Rohoingyas being emigrated from Bangladesh; because Arab merchants had been in contact with Arakan since the third century, using the Bay of Bengal to reach Arakan (Source: A Handbook of Terrorism and Insurgency in Southeast Asia: Editor Andrew T. H. Tan). So, Myanmar's claim is baseless and proved to be motivated.
"Fortify Rights", an organization that strives to strengthen the human rights movement through rigorous defense and protection of human rights, in its grief report, titled, 'Policies of Persecution: Ending Abusive State Policies Against Rohingya Muslims in Myanmar,' discussed:
The Myanmar government has effectively institutionalized the discrimination against the ethnic group through restrictions on marriage, family planning, employment, education, religious choice, and freedom of movement. For example, Rohingya couples in the northern towns of Maungdaw and Buthidaung are only allowed to have two children. Rohingya must also seek permission to marry, which may require them to bribe authorities and provide photographs of the bride without a headscarf and the groom with a clean-shaven face, practices that conflict with Muslim customs. To move to a new home or travel outside their townships, Rohingya must gain government approval, Council on Foreign Relations found.
The migration process of these people have been started in different neighboring countries, including Bangladesh, India, Thailand, Indonesia, Malaysia and Saudi Arabia, facing persecution, refusal to recognize as the citizens of Myanmar. They have frequently been pushed by the Myanmar army ruler to the boarder of Bangladesh, claiming on their ethnic identity of Bengali. Thus the misfortune came for Rohingyas, making them world largest refuge people.
Myanmar, however, has also been facing international pressure to allow the Rohingya to return to Rakhine and grant them citizenship rights since they renewed mass killings on 25 August 2017.
-On October 7, 1998: Between three and five Bangladeshi fishermen were killed by Burmese Navy forces just off the coast of St. Martin's Island (Source: Reuters).
-On September 8, 1999: One Bangladeshi fisherman was shot and killed by Burmese Navy forces near St. Martin's Island (Source: Reuters.)
-On August 20, 2000: Bangladeshi police reported that Burmese border guards had shot and killed four Bangladeshi fishermen off the coast of St. Martin's Island (Source : Reuters).
-December 2016: Myanmar Navy fired on four Bangladeshi fishermen in the Bay of Bengal (Source: Reuters).
-On October 6, 2018: The Government of Myanmar updated its 2015-2018 map of Myanmar Information Management Unit showing St. Martin as a part of their sovereign territory and spread the maps in two global websites. Following the event, the Myanmar Ambassador in Dhaka was summoned by the Government of Bangladesh and was handed over a strongly worded protest note to him. The Myanmar envoy said it was a "mistake" to show the St. Martin's Island as part of his country's territory (Source: The Daily Star).
How do you feel about these reports? Myanmar has killed Bangladeshi people as India been doing for long along the border. Myanmar has showed ST. Martin as a part of their boundary and later claimed it as 'mistakes' facing strong protests from Dhaka! Do you think it's a mistake? I don't think so. It's a clear geo-politically motivated propaganda to bring St. Martin to the international eyes in a bid to raise regional tensions in the area. It's a clear violation of international laws. But Bangladesh has taken proper steps in this connection to shut Myanmar's mouth.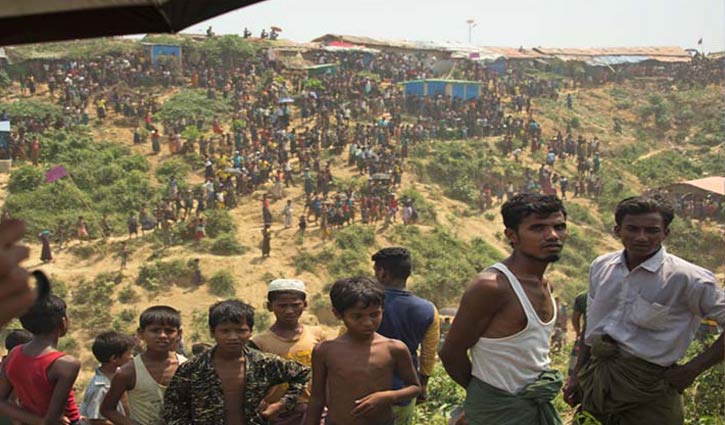 Rohingyas watch as firefighters douse flames after a fire broke out in the Kutupalong refugee camp in Cox's Bazar (Source, AP).
I don't understand why Bangladesh authorities remain opened the border gate unnecessarily when Myanmar started exodus. Lakhs of Rohingyas fled homes and we welcomed them without thinking of darkness future in Cox's Bazar or all over Bangladesh. Why? This is the major question? We opened our border gate indiscriminately and let them to enter into the Bangladesh territory without any hindrance, even, when it is not needed badly.
We let them in with humanitarian grounds of course. But we failed to catch and unite the international communities in strong manner to let them back to Myanmar with proper diplomatic attitudes.
Cox's Bazar is the world's longest beach. It's a major Asian tourist attraction as well. Scores of tourists from home and abroad visit the beach every year. But unfortunately, these days, it is also the centre of one of the world's major refugee crises! The overcrowded and unsafe camps are next to posh resorts and we let it to be done.
With its limited lands and boundaries, Bangladesh is trying to solve this problem diplomatically and expecting support of two of powerful neighbors India and China. In fact these two countries have close economical and geographical interest in Myanmar. Hence they are not willing to interfere the internal issues of this country.
What are the international communities think of the Rohingya issues? Indian Prime Minister Modi, in contrast to much of the international community, declined to criticize Suu Kyi's handling of the 2016–17 Northern Rakhine State clashes or Myanmar's government's treatment of its Rohingya people, when Modis' are our great friends of all time!
Not only that, India also described the Rohingya refugees as "illegal immigrants", echoing the Myanmar government's position. India also declared that it had no intention of interfering in Burma's internal affairs and that the Burmese people would have to achieve democracy by themselves as it respects the sovereignty of Myanmar. Yes. I salute the Indian leaders on what they did. Because it's the perfect diplomacy they performed when Bangladesh authorities failed to do so regarding the Rohingya crises.
Why Indian leaders are speechless? Of course, it's strategically. India is the largest market for Burmese exports, buying about US$220 million worth of goods in 2000; India's exports to Myanmar stood at US$75.36 million. India is Myanmar's 4th largest trading partner after Thailand, the PRC and Singapore, and second largest export market after Thailand, absorbing 25 percent of its total exports. India is also the seventh most important source of Myanmar's imports.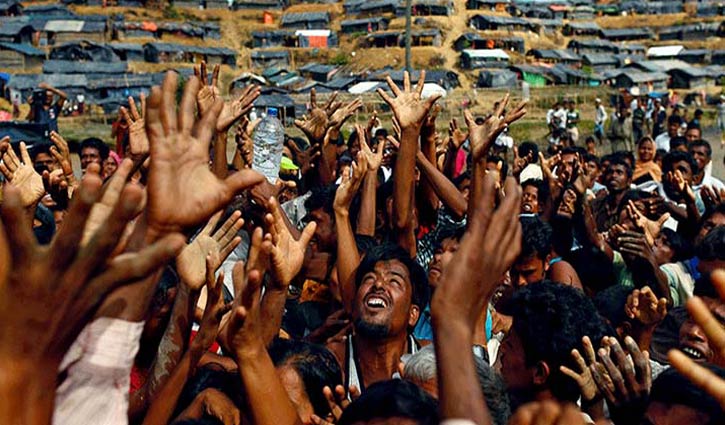 Rohingya refugees stretch their hands to receive aid at Balukhali makeshift refugee camp in Cox's Bazar (Source: Reuters).
Syed Ali Mujtaba, Ph.D., in an article, titled, "India-Myanmar Trade Relations" says:
"Myanmar is the gateway to India's 'Look East' policy. India is going all out to strengthen its relationship with Myanmar to achieve its stated objective. The current Indian government has infused a new momentum to keep its contacts robust with Myanmar. Indo-Myanmar relationship as a result is witnessing an unprecedented upswing in the recent years.
India is engaged in several river and land-based projects in Myanmar. The reconstruction of the Settwe port in Myanmar, Kaladan Multi-Modal Transport project and Tamu-Kalewa-Kalemyo road project are to name a few. The India-Myanmar gas pipeline project is another area where India is deeply involved in Myanmar."
China, contrariwise, is the most important supplier of military aid and maintains extensive strategic and military cooperation. Since 1989, China has supplied Myanmar with jet fighters, armored vehicles and naval vessels and has trained Burmese army, air force and naval personnel. Access to Myanmar's ports and naval installations provide China with strategic influence in the Bay of Bengal, in the wider Indian Ocean region and in Southeast Asia. China has developed a deep-water port on Kyaukpyu in the Bay of Bengal. It has also built an 85-metre jetty, naval facilities and major reconnaissance and electronic intelligence systems on the Great Coco Island, located 18 kilometres from India's Andaman and Nicobar Islands, giving China capabilities to monitor India's military activities, including missile tests (Source- Sino-Myanmar Relations: Analysis and Prospects by Lixin Geng).
'World Politics Review' that provides uncompromising analysis of critical global trends, in a report, headlined, "India and China Compete for Burma's Resources," says:
The Great Game of the 19th Century was played between empire builders Britain and Russia, using Afghanistan as their football in seeking control of central Asia. Today, there is a new great game under way between two very different competitors -- China and India. But this time the ball is Burma. In much the same way that Afghanistan was a poor and undeveloped but strategic piece of territory, so Burma now fits that role for the two burgeoning economic giants.
In recent years, Myanmar has moved to develop strategic and commercial relations with India and China, increasing trade and military cooperation with those countries. According to reports published in different media outlets, in August 2018, various international organizations found a staggering rise in Chinese projects in Myanmar, which may cause 'debt traps' against Myanmar, the same way it caused a debt-trap against Sri Lanka. Despite these reports, Myanmar's government continued with the Chinese loans and programs in November 2018, causing wide public concern. In February 2019, Myanmar pursued more Chinese-sponsored loans and programs.
Canada and USA, however, also played strategic role in resolving the Rohingya crisis. The countries, including the United States, Canada, Norway, and South Korea, as well as other international donors, have upped their humanitarian assistance as the flow of Rohingya to Bangladesh has been grown since August 2017.
We, Bangladeshis, also faced same exodus and political killings by the brutal Pakistani army during the War of Liberation in 1971. With the active Indian military and technical support, we gained Independence within short-nine-month period. Celebrities, including Beatles star George Harrison and legendary sitar player Ravi Shankar, organized the "Concert for Bangladesh" in New York to help raise funds and global awareness about our fight for independence against the Pakistani army.
India, whatever the reason, had not only supported us in complete sense with giving vast space for the '71 Bangladeshi refugees but they campaigned against Pakistan on the way to our bloody freedom, helping out Bangladesh towards the independence along with the strong international support and participation. But Bangladesh, now in 21st century, failed to gain the dynamic and strong international supports to repatriate the stateless Rohingay refugees to their ancestral homes in Myanmar.
Prime Minister Sheikh Hasina, however, has placed a four-point proposal before the 74th United Nations General Assembly (UNGA) to resolve the crisis. Her proposals, according to the newspaper report, include the following points in short:
1. Myanmar must manifest clear political will for the sustainable return and reintegration of the Rohingya to Myanmar.
2. Myanmar must build trust among the Rohingyas, allowing "go and see" visits to northern Rakhine by Rohingya representatives.
3. Myanmar must guarantee the security and safety of the Rohingyas by deploying civilian monitors from the international community in Rakhine.
4. The international community must ensure that the root causes of the Rohingya problem are addressed and the violation of human rights and atrocities committed against the Rohingya are accounted for.
I am proud with honorable Prime Minister Sheikh Hasina for her positive and prudent proposals given to the international community on behalf of the Rohingyas. But we have to keep in mind that we are hosting the biggest refugee camp in the world. It has become so suddenly and brutally. The role, we expect from our close international friends has been quite disappointing. Our neighboring friends- India and China- are seemed to be playing strategic games.
As it is now clear that the Myanmar authorities are unwilling to take any action to resolve the crisis, Bangladesh must ramp its political efforts up to tackle the Rohingya crisis for its own sake. Bangladesh has sent letters to foreign missions and organizations, but this is actually not enough. We should raise voice globally against Myanmar's brutality. We should act proactively, not reactively. Similarly, we could report envoys and personalities to important capitals to bring more attention to the Rohingya issues. In a word, Bangladesh has to create strong international E-mail pressures on Myanmar for repatriation of their citizens soon. The Bangladesh authorities also must decide whether to continue to struggle to provide shelter for so many refugees or expel them and draw the ire of international communities. Of course, it's a challenge for the Bangladeshi leaders.
Writer: Journalist and Deputy Assistant Director at Walton Group. He can be reached at [email protected]
risingbd.com