Some lawyers will fight for Minni
Published: 03:03, 19 August 2019 Update: 15:18, 26 July 2020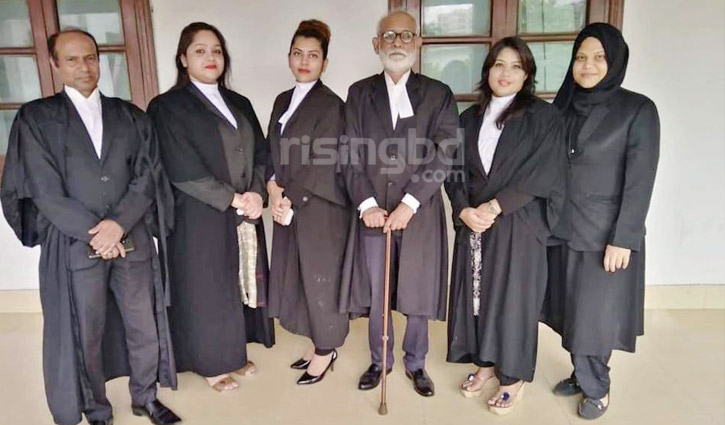 Staff Correspondent: The hearing on a bail petition filed for Aysha Siddika Minni will be held at a bench of High Court (HC) Division today (Monday).
A group of lawyers headed by ZI Khan Panna will stand for Minni at a free of cost.
The group of lawyers include Aynunnahar Lipi, Makkia Fatema Islam, Mahrin Masud Bhuiyan, Ayesha Akhter, Rona Nahrin, Rohani Faruk Khan, Jamiul Haq Foysal, Debajit Debnath, Nazmus Sakib and some other young lawyers.
Earlier on Sunday, a bail petition was placed before the HC bench comprising Justice M Enayetur Rahim and Justice Md Mostafizur Rahman in a case filed over the murder of Minni's husband Rifat Sharif.
Minni's lawyer ZI Khan Panna placed the bail petition.
On August 8, the HC bench of Justice Sheikh Md Zakir Hossain and Justice Md Mostafizur Rahman denied to grant bail to Minni in the case filed over the murder of her husband.
Prior to this, a Barguna court rejected the petition seeking bail for Minni, the prime witness in the murder case.
Mentionable, some miscreants attacked Rifat Sharif (25) with sharp weapon in broad daylight in front of Barguna Government College on June 26 while her wife was desperately trying to save him.
The entire incident was captured possibly on a mobile phone and footage of the incident went viral on social media.
Immediately after the attack, locals took Rifat to Barishal Sher-E-Bangla Medical College Hospital (BSMCH). Later, he was pronounced dead.
Following the death, victim's father Abdul Halim Dulal Sharif filed a murder case accusing 12 people on June 27.
Rifat was the only son of Abdul Halim Dulal Sharif at Boro Lobongola village in Burirchar union under Barguna sadar upazila.
risingbd/Dhaka/Aug 19, 2019/Mahidi/Mukul
risingbd.com