Ireland's visa so easy to get! (Part-IV)
Published: 11:03, 3 September 2019 Update: 15:18, 26 July 2020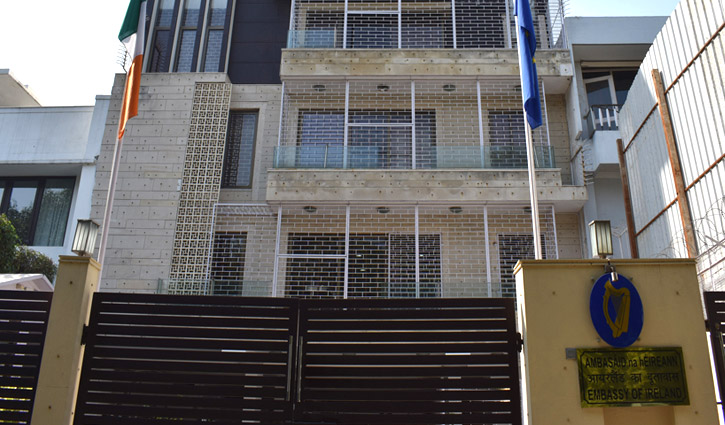 Uday Hakim, back from Dublin (Ireland): I was seating in the park near Ireland embassy as the security guard barred me from entering inside the embassy. Nobody here is known to me. There was no phone number of anyone associated with the embassy. There was no way to communicate with the embassy officials.
You had to think quietly while you were in great danger or in decisive situation. That's what I was doing then. What's the way? The security guard had to be managed by any means, I thought. Of course, he had a way. Everything has alternative options. There was certainly an alternative option to solve the issue. But I was helpless for the visa. 'Impossible,' his answer remained usual.
Many may think why is it necessary for me to make request a gateman so much for a visa at the embassy?
A story was remembered in this regard. I was living at Shewrapara in Dhaka. I was working as a sub-editor for the Bangla daily Prothom Alo. Meanwhile, I was preparing for the BCS preliminary test. Just the day before the test, my uncle came home at Shewrapara. He would also seat for the test with me. He was an Assistant Professor at Rajshahi University. We called him Shafi uncle. He said, "Let's play cards." "It's today! The preliminary test is going to be held tomorrow, isn't it?" I replied. "None can stop me in the test this time," he said. "Is your preparation so good?" asked some of my friends in the room who were also job seekers. Uncle stopped talking then. When I pressed him to talk, uncle silently said that no one can stop except the gateman in the examination hall!
It's no time in hands. If it doesn't work, I'll leave the place. I got up and went to the gateman again. I tried to make him a friend. Hey dada (brother)! I'll visit Dharamshala once in a lifetime. It's a wonderful place. It's such a heaven. You are a lucky man as you are born there. The man listens with smiles.
"I've understood that I could not enter inside. Please tell me a way," I told the man. "I don't know," he replied. "What's the way to communicate inside?" I asked the man again. It seemed he was getting a bit kind on me. Give me a phone number, please! He gave me a PABX number. "If someone calls you from inside the embassy and asks you to go in; only then I can let you go in," he suggested finally.
There is a metaphoric expression- Light at the end of the tunnel- signs of improvement in a situation that has been bad for a long time, or signs that a long and difficult piece of work is almost finished. I phoned inside. A man picked the phone up. "Are you a citizen of Ireland?" he enquired. "No," I replied. "In India?" he asked again. "No." I answered again. "Where are you from?" he examined. "From Bangladesh and I came here to get a VISA to Ireland," I explained. "Not here, please submit your necessary papers in Kolkata," the man said and hanged the phone up immediately.
I took the phone again. Another official received the phone call and said please submit your papers in Kolkata. I said, "I am in front of your embassy building in Delhi." "Then submit your papers through currier at DHL center,' he suggested and kept the phone.
I was hopeless but called again. "Please listen to me and don't cut off the phone call," I told the receiver at the beginning of the talking. "I understood that it was urgent for you but should follow the system here. Process doesn't support you," the receiver told me.
I called again. This time, luckily the phone was picked up by the PS (Personal Secretary) of Ireland ambassador. She was a gentlewoman. She might be Indian. I told her my situation in short and requested to take this matter seriously. "Try to understand, there is a cricket game in Ireland; a company in Bangladesh is giving money for the tournament. This is Ireland's profit. I have to stay in the presentation ceremony," I added for the woman official. She said, "Stay in the phone-line. I'm talking to the ambassador."
"Hey! Are you there?" she got back nearly seven minutes later. "Yes! Madam!" I responded. "Do you have a letter from the Ireland Cricket Board?" she asked me. "Yes," I said. "Is there any sponsorship contract? All other necessary papers?" she questioned me again. "Yes Madam,' I replied again. "Do you have bank draft?" she asked again. "No madam," I answered. "Go to the State Bank of India and bring a bank draft within 2pm today," she told me. "Thank you madam, So kind of you," I kept the phone.
The gateman understood all as he was beside me when I was in call and I saw smile on his face. I asked him, "Where is the State Bank of India?" "It's far away," he informed me and suggested taking an auto. I was getting encouragement then. I called Farid bhai now. I told him everything in brief. Farid bhai said there is a branch of the bank near Bangladesh High Commission in the city. He called one of his assistants who told the name of the road. I took an auto and ran to it. It was 11am on the clock.
I reached the state bank within 15 minutes. It's a long queue. I stood in line. When my turn came, the officer in charge said, "Go to another counter." Wherever I went there, I saw the man was busy with eating betel and gossiping to people next door. I remember the same situation in our government bank in Bangladesh, seeing the people in and out of the bank eating and gossiping. However, within half an hour my work was done. Coming out of the bank, I started straight to the embassy of Ireland. It was 12pm.
I requested the gateman to call the women official. He called but she said that she told me to come at 2pm. Two more hours to wait! I went to a train station far away from the embassy to have lunch. The auto was rented for Rs.80 to go there but while returning by taxi; however, it took 150 rupees.
At 2.02pm, the gateman called inside. The woman official responded and told the gateman to let me in. The gateman registered my name, address and phone number. He told me to go to the second floor and seat there. A female official came a few minutes later and took the necessary documents from me.
She was a lovely lady of bright color in her 20s. She took the paper through the glass gap. After taking the papers she said OK. "Arrive at 4 o'clock," she said. "Today?" I was surprised. "Yes, it's time to get your passport in the afternoon," she replied. "Is it with the visa?" I wanted to make it clear. "Yes, with the visa," she answered. Ireland visa in such a short time! Ah! The mind was filled with happiness!!!
But will they grant me a VISA in such a short time! Or not!
(To be continued…)
(Uday Hakim is the advisory editor of risingbd.com and also an executive director of Walton Group)
* Ireland's visa so easy to get! (Part-III)
* Ireland's visa so easy to get! (Part-II)
* Ireland's visa so easy to get!
risingbd.com