More cricketers like Mustafijur needed
Published: 14:17, 28 December 2016 Update: 15:18, 26 July 2020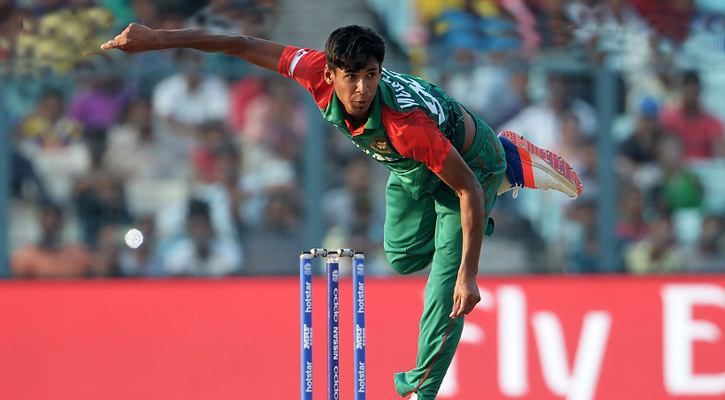 Bangladesh bowling sensation Mustafizur Rahman stunned the cricket world showing his intelligence.
The young pace sensation of Bangladesh cricket team again attracted international media. He has been selected as the Emerging Cricketer of the Year for 2015-16 by International Cricket Council (ICC).
He is the first cricketer from Bangladesh who won ICC's Emerging Cricketer award. Winning the award, Mustafizur brought unique glory for him as well as for the country. In latest achievement, the cutter master got position in Cricket Australia's T 20 team.
ICC started Emerging Cricketer award in 2004. From then, only four Asian players including two Indian players (2004, 2013), a Sri-Lankan player (2008) and Mustafizur won the award. Besides, no Pakistani players get the award yet.
Mustafizur Rahman grabbed the media attraction in June, last year. Taking five wickets in debut One Day International (ODI) against India, he stunned the cricket world. Later, he took six wickets in the second ODI of that series. Bangladesh won the series against India by his extraordinary performance. The 19-year old Mustafizur made a world record taking 11 wickets in first two matches.
Besides, Bangladesh thrashed Pakistan in the same year. Bangladesh gave a message to the world beating two superpowers India and Pakistan in T-20 cricket format. And there is no doubt that Mustafizur played the heroic role in those matches.
Showing unique bowling technique, Mustafizur proved Bangladesh's power in cricket. Giants batting genius failed to face his tremendous bowling. Batsmen could not face Fizz's bowling failing to understand his bowling technique which played the main role to win his team.
Mustafizr's bowling amazed the world again when showed his bowling mastery in Indian field during Indian Premier League (IPL). He touched the heart of Indian cricket fans. Renowned cricketers praised Mustafizur and finally Mustafiz's team Sunrisers Hyderabad Team became champion in that tournament. As a result, his fame spread more.
Bangladesh's bowling genius, Mustafizur also attracted attention during his county cricket in England. He showed his mastery in the debut match there. Taking four wickets giving 23 runs, Mustafizur won Man of the match award.

Cricket plays a great role to highlight Bangladesh positively in the world. Mustafizur's talent increased the way to uplift the image of Bangladesh. Bangladesh cricketers are visiting New Zealand now. Although, Tigers have lost the first game, but the players are not frustrated. Hoping Bangladesh will do better in second match.
But, we need more players like Mustafizur to establish a strong Bangladesh in cricket. We believe there are more talents in the country. Now it's time to search those talents and take proper care of them. And only then, Bangladesh will dominant cricket world.
risingbd/Dhaka/Dec 28, 2016/NA/Nasim
risingbd.com