Teesta agreement expected in soonest possible time: Modi
Published: 03:10, 6 October 2019 Update: 15:18, 26 July 2020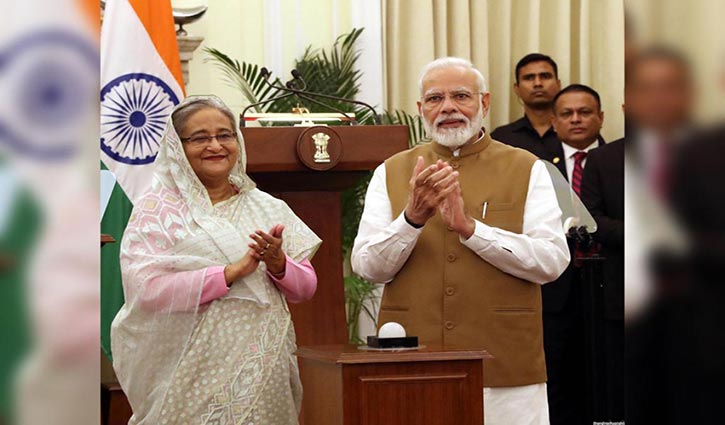 Indian Prime Minister Narendra Modi on Saturday said Indian stakeholders are working to ink the proposed Teesta deal in soonest possible time as his visiting Bangladesh counterpart Sheikh Hasina said Bangladesh keenly awaits for its early signing as agreed upon by both the governments eight years ago.
"Prime Minister Modi informed (Sheikh Hasina) that his government is working with all stakeholders in India for conclusion of the Agreement in soonest possible," read a joint statement issued after talks between the two leaders in the Indian capital.
It said Modi's comments came as the Bangladesh Prime Minister said the people of Bangladesh awaited "early signing and implementation of the Framework of Interim Agreement for sharing of the Teesta waters, as agreed upon by both governments in 2011".
According to the statement the two premiers simultaneously directed the Joint Rivers Commission's Technical Level Committee to expeditiously exchange updated data and information and prepare the draft framework of Interim Sharing Agreements for six other common rivers as well.
The remaining rivers, it said, were Manu, Muhuri, Khowai, Gumti, Dharla and Dudhkumar and to firm up the draft framework of interim sharing agreement of Feni River.
The Rohingya crisis also featured the Bangladesh premier's meeting with Modi who, the statement said, agreed on the need to expedite safe, speedy and sustainable repatriation of the displaced persons to their homes in Myanmar's Rakhine State.
"They agreed on the need for greater efforts to be made to facilitate their return, including by improving security situation and socio-economic conditions in the Rakhine State of Myanmar," said the 53-point statement.
The Indian premier, it said, appreciated Bangladesh's generosity in sheltering and providing humanitarian assistance to "forcibly displaced persons from the Rakhine State of Myanmar".
He said New Delhi would supply a fifth tranche of humanitarian assistance to support Bangladesh government's humanitarian efforts to shelter the Rohingyas in temporary camps in Cox's Bazar.
The tranche of aid, he said, would comprise tents, relief and rescue material as well as one thousand sewing machines for skill development of forcibly displaced women from Myanmar.
The statement pointed out that India by now completed a first project to build 250 houses in Rakhine state and it was now preparing to implement another set of socio-economic development projects in the area.
Sheikh Hasina conveyed Dhaka's gratitude for India's humanitarian assistance since September 2017 to help meet the needs of the displaced persons from Myanmar.
Source: BSS
Dhaka/Mukul
risingbd.com