Youth's wrists cut off following UP Chairman's instruction
Published: 12:12, 19 September 2019 Update: 15:18, 26 July 2020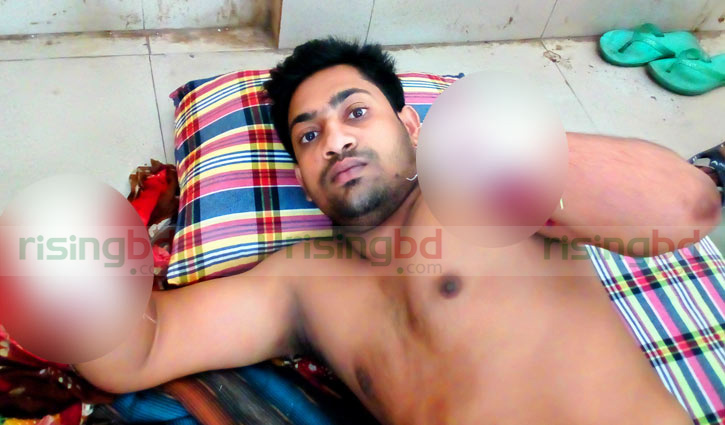 Two wrists of a youth have been cut off by miscreants in Shibganj upazila of Chapainawabganj after local Union Parishad Chairman instructed.
The incident took place at Nayalabhanga village of the upazila around 2:00am on Thursday.
The victim was identified as Rubel Ali, 28, son of Khodabaksh of the village. He is a mango trader.
Rubel was rushed to Rajshahi Medical College and Hospital early Thursday. He is currently undergoing treatment at ward no 31 of the hospital.
Victim Rubel told risisngbd that his (Rubel) cousin Abdus Salam, joint secretary of Nayalabahnga union AL unit, has a dispute with UP Chairman Fayez Uddin over Charpaka cattle shed near Shibganj border. As a sequel to that his wrists were cut off.
He further said, "I was requested the chairman to leave me. But he asked his goons to take me behind a local school and to cut off my wrists. The miscreants did what they were asked. Hearing the scream, my friends rushed the spot and took me to the hospital."
Locals alleged, Chairman Fayez Uddin is a person like a rowdy and involved in Yaba trading.
The reporter tried to talk to him over Rubel's matter, he did not respond to phone call.
Inspector (Investigation) Atiqul Islam of Shibganj Police Station said police visited the spot in the morning. Nobody has yet been arrested over the incident till the report was filed. Investigation is running to uncover the mystery behind the incident.
Rajshahi/Bulaki/AKA

risingbd.com