Zia started reign of killing in politics: PM
Published: 15:17, 30 August 2019 Update: 15:18, 26 July 2020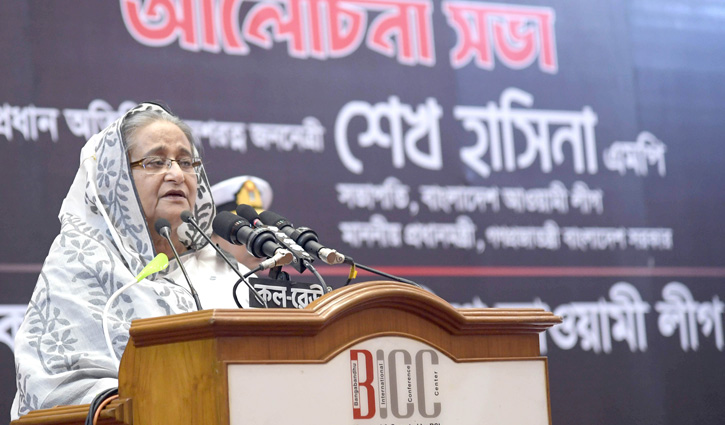 Desk Report: Terming BNP as a "party of killers", Prime Minister Sheikh Hasina has said the party was born through murders.
"The founder of BNP was a killer and he floated the party with those who were involved in murders … there is nothing to defend it," she said.
Sheikh Hasina, also the Awami League (AL) president, was addressing a discussion as the chief guest at Bangabandhu International Conference Centre on Friday afternoon.
Dhaka city north and Dhaka city south units Awami League jointly organised the discussion on the occasion of the National Mourning Day.
The prime minister said the party which handed over the blood-stained national flag to the killers is nothing but a party of murderers.
"They were born through killing and their character is not changed even to some extent," she said.
Sheikh Hasina said British MP Sir Thomas William wanted to visit Bangladesh to probe the Bangabandhu killing.
"But Ziaur Rahman didn't allow him to visit Bangladesh … If Ziaur Rahman was not the killer and the BNP was not a party of murderers, why they didn't issue visa to the British lawmaker?," she questioned.
The AL president said the BNP leaders should know that their party made the country's politics toxic.
"The BNP had unleashed a reign of murders in the country where once politics was pursued on the basis of an ideology," she said.
Sheikh Hasina said after becoming the prime minister, Khaleda Zia had rewarded the killers of Bangabandhu and four national leaders following the footprint of her husband and military dictator Ziaur Rahman.
The prime minister said killing, torture and bomb-blasts had started during the rule of Ziaur Rahman. It was Ziaur Rahman who rewarded Bangabandhu's killers by giving them jobs to Bangladesh missions abroad, she said.
"Many countries including Poland didn't accept them as they were murderers," she said.
She said the BNP's founder destroyed the congenial atmosphere on the campus by handing over arms to the students.
The prime minister said Ziaur Rahman stopped the trial of war criminals and released them from the jail. "Zia made identified war criminals like Shah Aziz, Abdul Alim and Maulana Mannan ministers … he rewarded Bangabandhu's killers one hand, while rehabilitated the war criminals socially and politically on other hand," she said.
She continued: "The culture of killing, forced disappearance and loan default started during his rule."
Sheikh Hasina said those who were involved in killing of Bangabandhu and those who were engaged in the plot had joined hands with Ziaur Rahman and Khandakar Moshtaque. "Many of them remain alive and they still talk tall," she said.
The prime minister said both Ziaur Rahman and Khaleda Zia had made ministers those who formed Al Badar, Al Shams and Razakar forces and those involved in the killing of intellectuals. _BSS
risingbd/Dhaka/August 30, 2019/AKA

risingbd.com